VHCast Studio Suite is a video studio rental capable of hosting a multi-camera, multi-person video shoot for live streaming and pre-recording material used in events, meetings and presentations.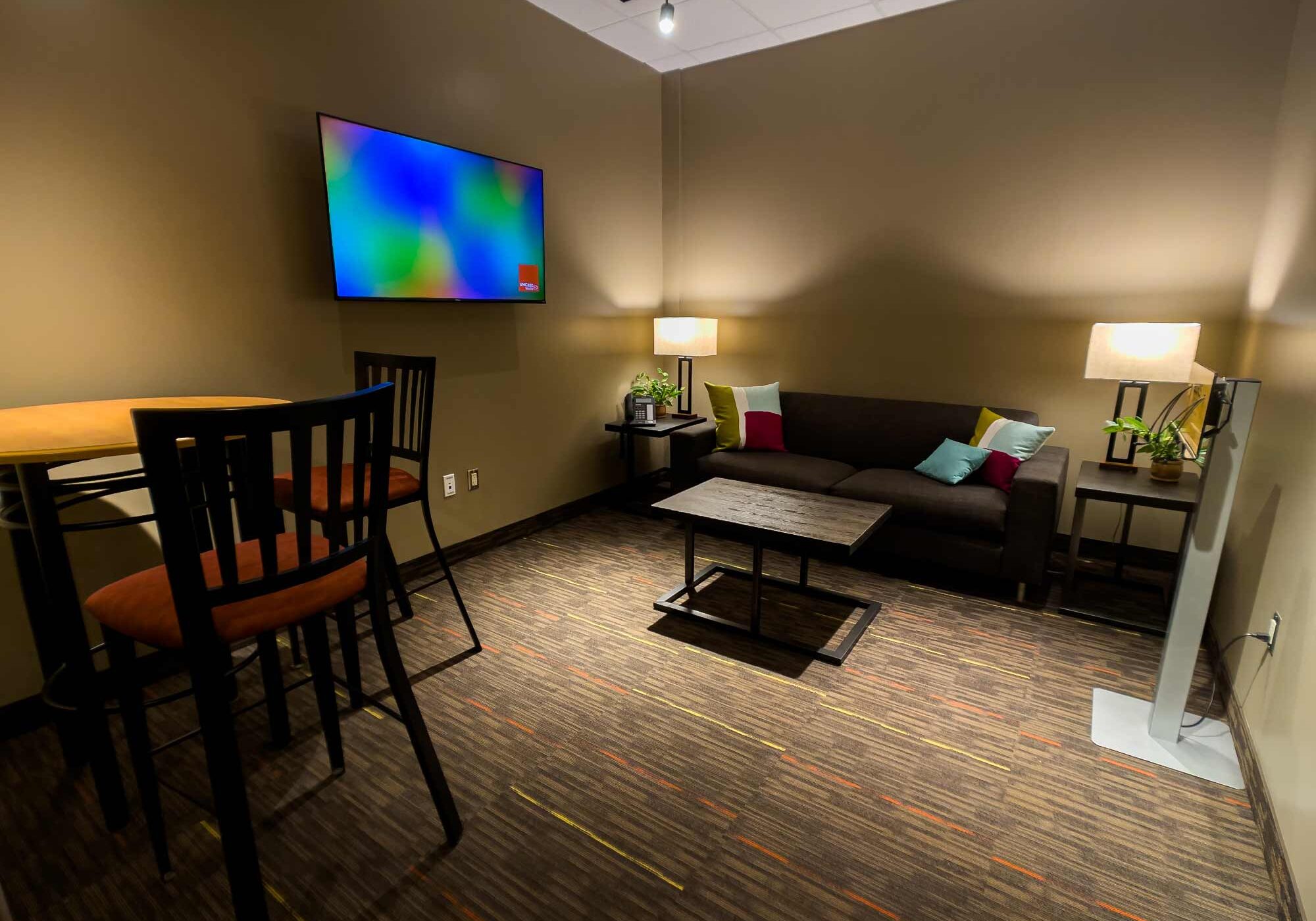 With space for on-camera talent and other production use, the Green Room also includes laptop connections, mobile device charging and a large monitor for program feed.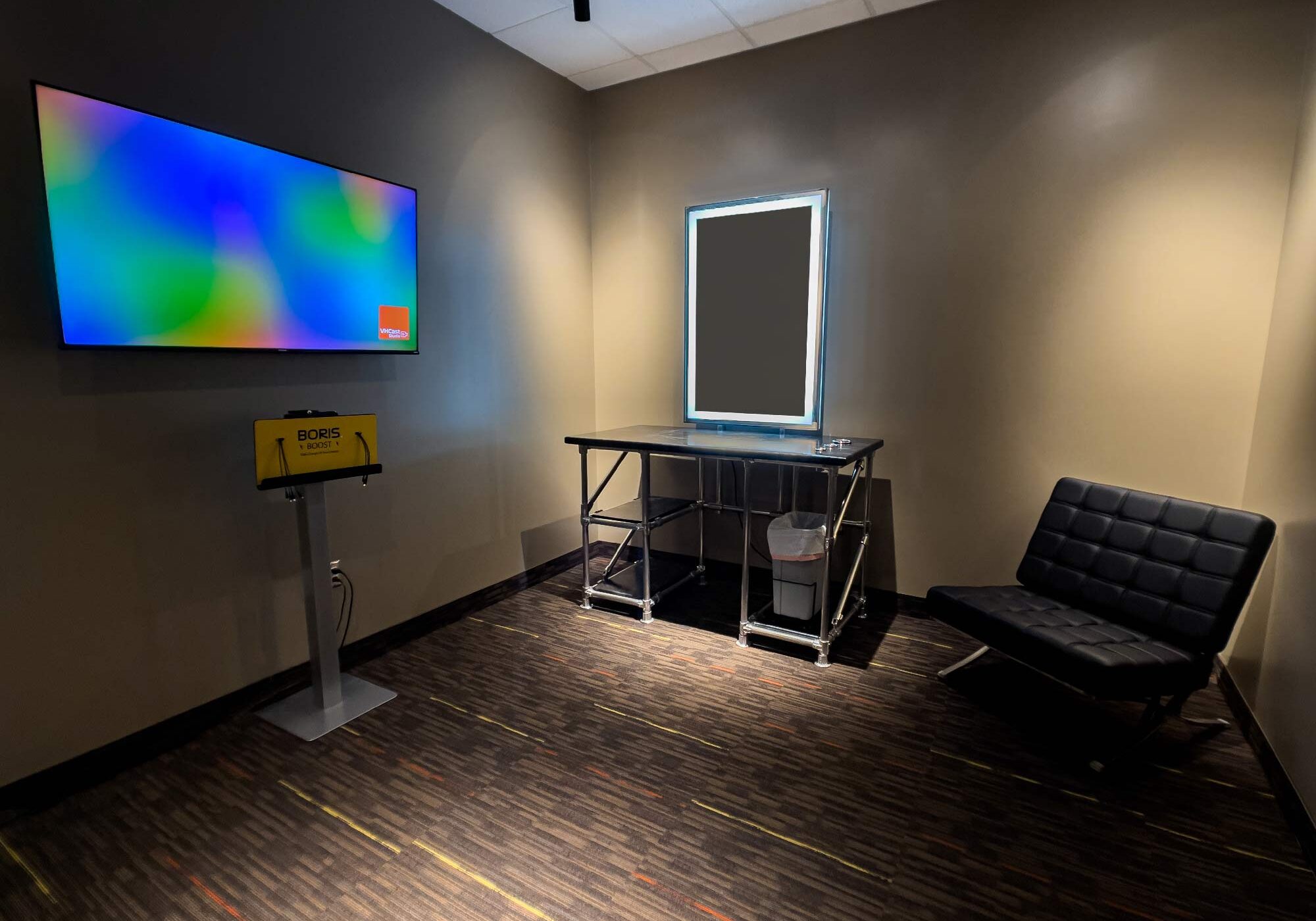 Featuring a countertop and a large mirror with integrated lighting, the Makeup Room also includes a program monitor so you can keep up with what's going on while you freshen up.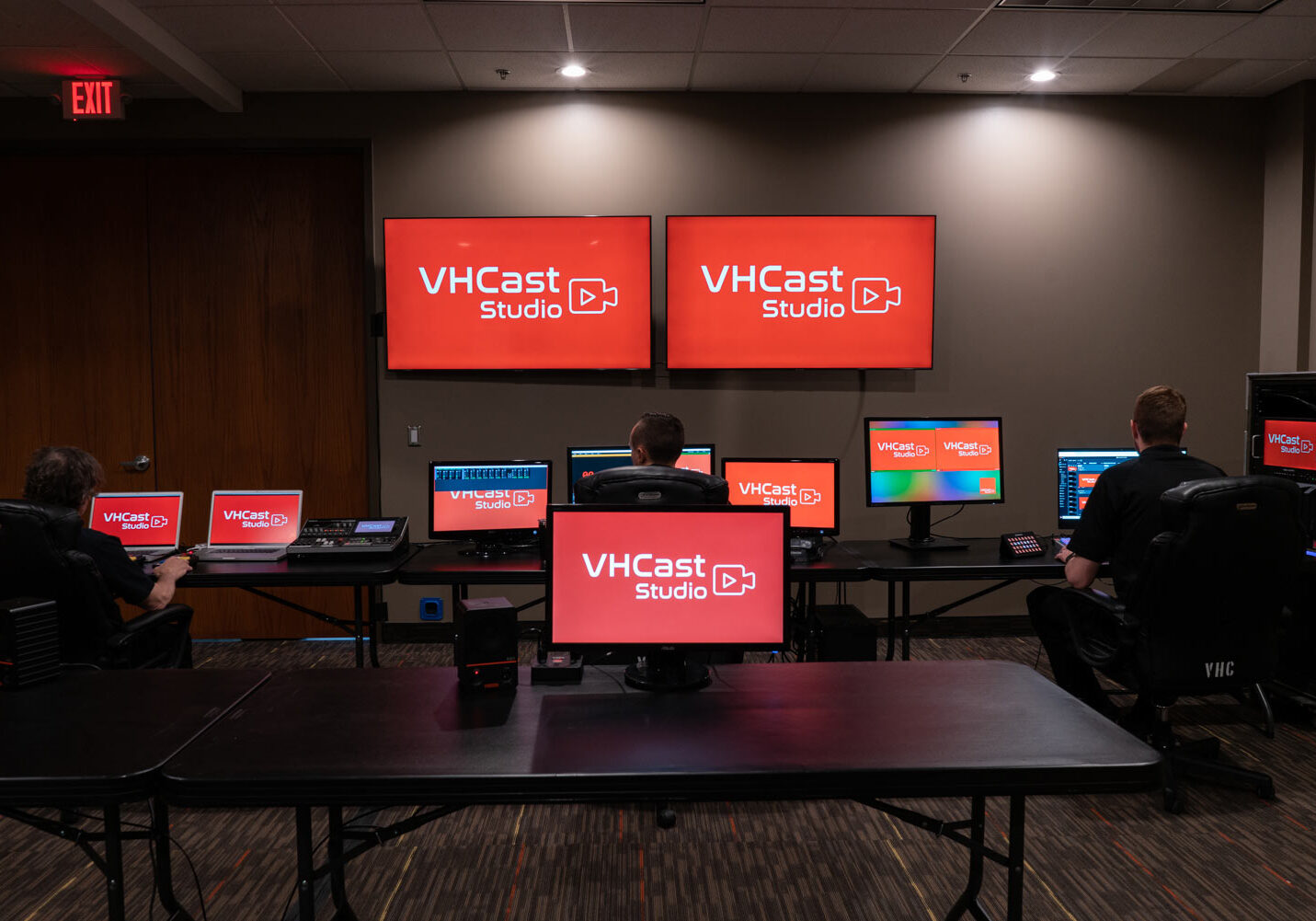 Designed to flexibly accommodate various setups, the Control Room features two 65-inch monitors that display several different video sources. The opposite wall has a kitchenette including a microwave, coffee service, mini-fridge and, of course, snacks!
VHCast Studio Suite is available for half and full-day rentals. Bring your own production gear or rent any additional equipment you need from us. Studio rental includes access to the studio space, flex/control room area, private restrooms, green room, makeup room, dock access, Wi-Fi and electricity.
To learn more or take a tour of the studio, contact us or give us a call (651) 288-3855.
Studio dimensions: 39' x 32'
Green Room: 10' x 13'
Cyclorama Wall: 31' wide with 2' floor to wall radius
Makeup Room: 10' x 13'
Ceiling height: 12'
Studio door opening: 7'11" x 8' 11"
Black drape along perimeter on track
Electricity
Internet access
On-site supervisor
2 private, ADA-compliant restrooms
Control room
VHCast Virtual Event Platform: Plan virtual events with ease
VHCast is your professional, customizable and flexible virtual event platform for remote and hybrid events. Through the online platform, attendees can visit a virtual lobby to review their event agenda, join general and breakout sessions, watch videos, browse virtual trade show exhibits and more.
Live or Pre-recorded Keynotes
We can accommodate up to 8 live presenters and multiple pre-recorded ones.
Our platform allows meeting participants to join multiple breakouts and access related resources, with permission-based access available.
Sponsor or Exhibitor Rooms
Hosting a virtual trade show? Need to promote your sponsors to meeting attendees? Our Virtual Event Platform has these features built right in.
Branded to your Organization
We can offer you a professional general event template or you can customize your fonts, colors and logos for a fully branded experience.
Event Analytics
& Survey
If it's important to measure the attendance and effectiveness of your event, we make it easy to get the data you need.
Videoconferencing Software Flexibility
We can integrate your preferred software into the experience, making it easy for your team to use something familiar.
Live Help Desk
Attendees will appreciate the ability to get help with technology or event-related issues in real time.
Make your next event, meeting or show come to life